There's a growing market for energy-efficient homes, featuring technologies and products that keep home energy, heating and cooling costs low. Highly efficient homes bring a lot of benefits: they generate less carbon emissions, cost less to power, and increasingly, are highly attractive to new home buyers.
As the market for energy-efficient homes grows, many rating systems have cropped up—LEED, Zero Carbon, and Passive House to name a few. If you are in the market for a new house, you might be familiar with the Home Energy Rating System or HERS—in fact, two million homes have been rated using the system.
Developed by the Residential Energy Services Network (RESNET), HERS measures how energy-efficient a new home is. The lower its HERS score, the better the energy efficiency. For example, according to the National Renewable Energy Laboratory, a house with a score of 20 could save you close to $2,000 on your annual energy bills.
That's the attraction for Above and Beyond Energy. Since 2007, the company has been providing energy audits for new home builders in North and South Carolina. They evaluate and analyze all the major systems of a new home, including insulation, windows, mechanical equipment, water heater, lights, appliances, as well as testing for envelope and duct leakage.
Business is brisk for company founder Mark Jabaley. "Our clients contract us to produce HERS Ratings for their homes," he said. "In our market increased competition, as well as new building codes and utility rebate programs are driving the move to energy-efficient new construction."
In addition to the HERS Index, Above and Beyond offers a High-Performance Home Program package. To qualify for the rating, builders' homes need to meet strict requirements—and the houses must include an energy monitoring system. For Above and Beyond Energy clients, that system is EnergyCloud by Blue Line Innovations.
Real-time feedback. Informed action.
While there are other electricity monitoring systems, EnergyCloud's real-time data is what won Jabaley over. "Energy monitors are an important requirement for energy efficient new homes," he said. "The builder can produce an efficient home, but if the new owners aren't making an effort to conserve energy, then they may waste it. By providing real-time feedback, they are more likely to make better choices."
Jabaley said that new homeowners appreciate the real-time feedback on how much electricity they are using and money they are spending. They are even experimenting with how changes in behaviours can impact their electricity consumption.
"They can turn lights and appliances off and see their KW usage or the dollar amount they are spending drop. That real-time feedback is powerful, but the 'appliance breakdown' gives the occupants great insight into where in their power bill they are spending their money.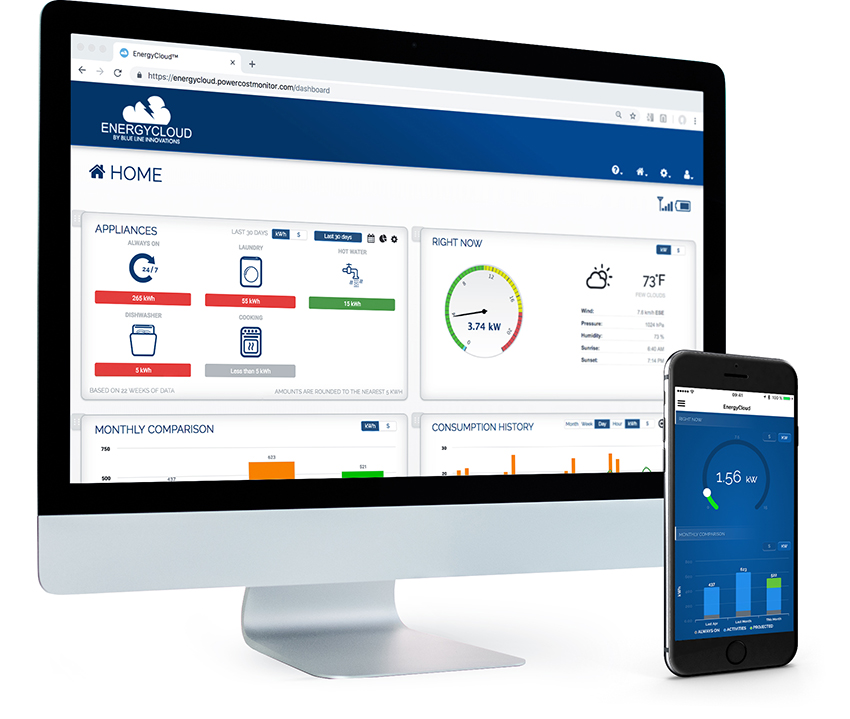 Easy to Install, Easy to Use
EnergyCloud's ease of installation was also a factor in Above and Beyond Energy's selection. The EnergyCloud meter sensor fits over most residential electricity meters used in North America, including mechanical (spinning disc) meters, digital meters, and smart meters.
"We don't have to be electricians and open the electric panel to install these units," Jabaley explained.
To date, Jabaley estimates he's installed Blue Line's energy monitor technology, including EnergyCloud, in more than 500 homes. As attention remains focused on carbon reduction and climate change, Jabaley predicts energy efficient homes will only become more popular—and Above and Beyond Energy will be there to help new builders meet the demand.